| | | |
| --- | --- | --- |
| | 901, 102B, & 106 Lined Up in Janesville, WI | |
Click on any picture to view full size.
Glen Monhart's Famous F Units 901, 102B, & 106 in Janesville WI - March 1st, 2000
Pictured in the photos above are three very unique pieces of railroad equipment. These locomotives where owned by the late Glen Monhart and have been in storage in Janesville since 1992.
These units along with the ex-96A were last run in Southern Wisconsin and used for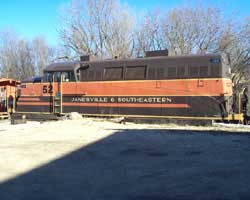 passenger excursions and other special events in the early 1990's.
During the last 8 years, they have been parked on the siding on the southeast side of the Janesville roundhouse. Recently they were pulled out in order for workers to access a retaining wall that needs repair next to where the locomotives were tied down. They are now coupled together A-B-A on the old coach track on the southwest side of the roundhouse.
Also parked in Janesville was the BL-2 #52 locomotive also owned by Glen. This unit was used for excursions in and around the Madison area as well.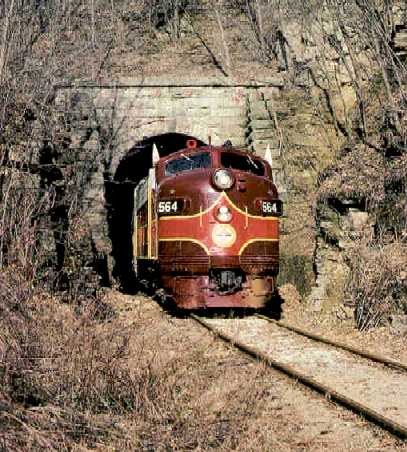 There is a lot of history to be told when it comes to these units. I remember the 901 back in 1981. It was operated by the Chicago Madison & Northern Railroad. It was numbered 564 at that time. Probably the most famous photo of this locomotive appeared on the June 1983 cover of "Trains" magazine. The 564 is shown exiting the south portal of the Steward tunnel between Belleville and Monticello, WI on the ex IC line recently removed.
I will be adding a lot more information in this section in the next few weeks. Keep checking back for more as it becomes available.
---
Home | Jim's Railroad Motorcars | Railroads in Green County | Back
No part of this site may be used or reproduced on other sites or in print without the permission of:
Southern Wisconsin Railcar Group.
This site Created & Maintained by: Jim Kalrath © 1998, 1999
Updated: March 8th, 1999