| | | |
| --- | --- | --- |
| | WHRC RAIL NEWS PAGES | |
Welcome to the WHRC's Rail News Pages.
Here is a listing of current railroad related new events form Wisconsin and around the Midwest. These pages will be updated as stories come in. If you have any railroad related news items of interest, please e-mail the webmaster.
Page 1
---
April 11th, 2000

Amtrak to expand service to Janesville, Fond du Lac

Fond du Lac, Janesville and Walworth County would get new passenger train service under a nationwide Amtrak expansion plan announced Monday by Gov. Tommy G. Thompson. Click here to see the rest of the story.
---
January 27th, 2000


Today's Madison Capital Times carried an article on page 1 Section B about a group formed to fight the proposed high speed rail line from Madison to Milwaukee.

Waterloo alderman, Michael Kent, has launched a web page offering a background and analysis by his city's special high speed rail committee. The article carries the usual crying-in-my-beer tales of woe if this actually happens.

The interesting part of the article is the mother with a newly built house crying about had she known this she would have never bought a lot next to the railroad. The realtor ( Madison Person of Alder, Judy Compton) who sold the lot to the unhappy mom said that someone in the DOT (but she can't remember who) told her that this route would carry low-speed freight cars for decades."There was never any notice, knowledge or anything that this was a possibility there.I think these people have a right to be upset."

It's a good read.

Editorial comment: In typical Madison political style those making the decisions regarding the future are always so far behind the crowd that it appears that they aren't even playing in the same ballpark.

We experienced this same thing while trying to save the former IC line. The Dane County Executive's office claimed that they had no knowledge of the potential removal of the rails on this line. Made no difference that Dane County was half owner of the line and appoints three members to the rail transit commission.

One of the people interviewed said that this plan would not provide low cost transportation to poor people. But I question just how much these people care about poor people except to exploit the issue to keep their trophy houses protected from noise Etc.

The web site carries several great comments about rail accidents and how many accidents there were with trains and the number of causalities that were listed as "trespassers." "They even listed people who were walking on the rails and along the rails as trespassers.' "Bystanders will be killed if a train crashes and homes will be destroyed."

Web pages:
---
January 16th, 2000

Wisconsin & Southern Railroad 71A Locomotive Makes Surprise Appearance

Madison - The WSOR 71A locomotive was called into service on Friday, January 14th, 2000.

In preparation for WSOR's monthly trips to the Old Feed Mill Restaurant, the 10C locomotive was being readied for Sunday's event. Part of this preparation involves making sure everything operates properly. The 10C's HEP unit "through a rod" while it was being run rendering it inoperable. The HEP (Head End Power) unit is used to supply electricity to all the rest of the coaches providing heat and lights. This power is needed to operate any passenger train .

Because only passenger locomotives have HEP units installed, the railroad does not have many locomotives with these units available. But in this case, there was one alternative. The 71A locomotive, which was up in Horicon being prepared for future passenger service. This locomotive HAS an HEP unit in it! A call was made to the Horicon engine shop, and the mechanics agreed to work all night in order to get the 71A ready for a trip to Madison on Saturday morning.

A crew went up to Horicon Saturday morning and brought the 71A back to Madison under its own power. They took the 752 locomotive along as a back up unit in case something broke down. This was the first time in almost 9 years the 71A was run on an open rail line. It also was the first time in 9 years since the 71A was in Madison where it was last used in passenger service during the WICT diner trains and other excursions.

On Sunday, the locomotive ran great. It completed all 3 trips from Madison to Mazomanie. This was a proud moment for anyone who was around back in 1991 and seen or rode a train with this engine on the head end. Buck Guthrie was the engineer for the WICT on most of those excursions. He currently is working part time with WSOR on excursions, so it was only proper to have him at the throttle of the 71A once again! Nice going Buck!

If you are interested in the complete story of the 71A locomotive, check out the WSOR web page. In their fanclub members section, there are articles describing the history and operation of this vantage locomotive.

While putting together the story for the 71A's return to service, I noticed and interesting side note. I found a picture the the then 96A (taken in 1991) in almost the same location as one of the photos I took of the it this weekend! Click here to check it out.

Jim Kalrath
WSOR Excursion Reporter
---
January 13th, 2000

Federal Railroad Administration Plan Sparks Debate On Train Whistles

Debates over trains blowing their horns at railroad crossings are expected to rekindle with Wednesday's announcement of a proposed Federal Rule requiring train engineers to sound locomotive horns at all crossings, regardless of local whistle bans.

The FRA isssued the long-awaited rule proposal. This surly will trigger public hearings and much public debate across the nation. The proposal would require locomotive engineers to blow their horn at all crossings with the exception of those with barriers and other devices to discourage motorists from challenging approaching trains. Click here for the complete story.
---
Tracking safety
State team formed to make local railroad crossings safer
By Steve Wideman
Post-Crescent staff writer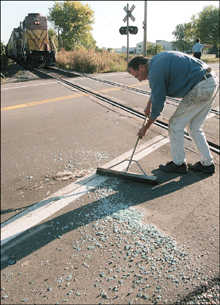 A man sweeps glass from Prospect Avenue in Grand Chute after a car was struck by a Wisconsin Central Ltd. train Sept. 13. (Post-Crescent photo by Kristyna Wentz-Graff)

Three fatal accidents within the past nine months have driven state transportation officials to form an emergency team to fund railroad crossing improvements in the Kaukauna and Little Chute areas.

State Commissioner of Railroads Rodney Kreunen said state Department of Transportation Deputy Secretary Terrence Mulcahy advised him "the DOT will work together with us to find the funds," to eliminate what Kreunen called severe safety problems with railroad crossings.

Kreunen is forming a "diagnostic team" to review the Wisconsin Central Ltd. corridor from Buchanan Street in Little Chute to Green Bay.

The result could be a call for up to $4 million in unfunded safety improvements, he said.

"If we had to depend on our normal funding levels, some of the crossings would not be addressed until 2003 or 2004," Kreunen said.

He said a task force of local law enforcement and municipal officials, along with representatives of the DOT, Wisconsin Central Ltd. and his office, will begin a review next week of conditions at nearly 44 railroad crossings along a 15-mile corridor between Little Chute and Green Bay.

Formation of the task force comes on the heels of several fatal and non-fatal accidents at crossings near Kaukauna and Little Chute in the past year.

Kreunen said formation of the diagnostic team to cover the entire corridor is a major undertaking.

"In lieu of the problems, we cannot take all the crossings piecemeal," he said. "We will look at every crossing, measure things up and, hopefully, will come up with recommendations on what needs to be done."

He said those recommendations could range from installing larger warning lights and crossing gates to closing some crossings.

"I expect there will be some closings," he said.

Kreunen said there are a number of reasons the Kaukauna-Little Chute corridor has become a hot spot of crossing accidents.

"Part of the problem we have is a rail line that has been physically upgraded so trains are able to run 50 mph," Kreunen said.

Since 1995, he said, the number of trains operated daily by Wisconsin Central in the corridor has increased from four to 16. Train speed limits have increased from 25 mph in 1995 to 50 mph today.

"The railroad made improvements to the track, putting in heavier, welded rail," he said.

Kreunen said allowable train speeds are governed by Federal Railway Administration standards.

"We have absolutely no say in the train speeds," he said.

Kreunen noted that if efforts to bring Amtrak passenger service to this area succeed, those trains could run as fast as 110 mph.

"That whole route is going to get busier as Wisconsin Central runs more trains to Green Bay, Marinette and up to Escanaba, Mich., to transport iron ore," he said.

Kreunen said the corridor will also likely play an important role in the shipping of freight from eastern Canada.

He said the increase in train traffic coupled with general growth in the area and changes in traffic patterns along U.S. 41 are forcing a look at the situation.

"We are moving this to the front of the pack," Kreunen said, making reference to a list of scores of crossing improvements across the state under consideration by his agency.

"We do understand that (vehicle) traffic is increasing, but we will also look to see what comes across the crossings, including school buses, propane tankers and such. That will heavily influence us," he said.

Kreunen noted that the rash of accidents cannot be blamed only on trains or the warning devices at crossings.

"The public has not taken railroad safety seriously," he said.
---
Home
| Jim's Railroad Motorcars | Wis Railroad History | Page 2 | Back
No part of this site may be used or reproduced on other sites or in print without the permission of:
Southern Wisconsin Railcar Group.
This site Created & Maintained by: Jim Kalrath © 1998, 1999 , 2000
Changes Last Made: January 13th, 2000 (Updates)