| | | |
| --- | --- | --- |
| | Ex-ILLINOIS CENTRAL RAIL REMOVAL NEWS | |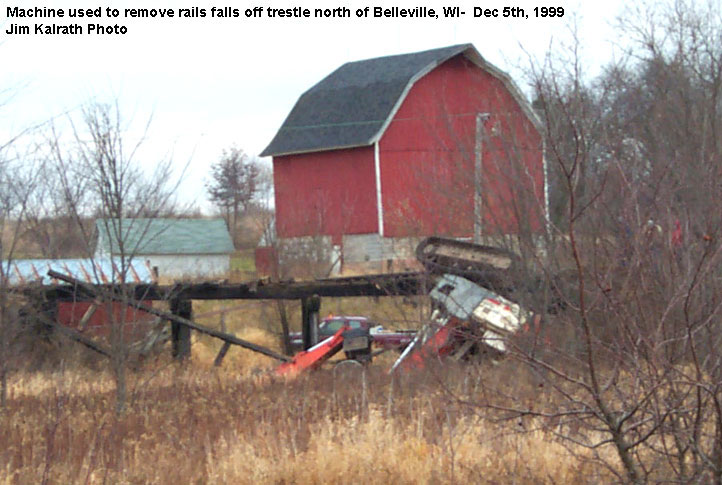 This machine fell off the railroad trestle near Hwy. A and 69
Sunday Morning Dec 5th, 1999
The Ex-Illinois Central Railroad Removal Between Madison and Monroe, WI - Dec 5th, 1999
A Link-Belt Crane fell off one of the railroad trestles on Sunday, Dec. 5, 1999. This trestle is located north of the City of Belleville, WI near the intersection of Hwy. 69 and county trunk A in Dane County.
It was reported that the operator received only minor injuries in the crash. The operator was removing tie plates and ties in preparation for the new bike trail that will replace the once popular IC railroad. The machine operator was attempting to cross the trestle when the weight of the machine broke some timbers on the bridge.
Because the rails have been already removed, the trestle was weakened. Railroad trestles like this are designed to hold the weight of trains while running on correctly installed rails. The tracks of the Link-Belt crane are wider than the area where the rails normally are placed, putting the weight of the crane on the very edge of the trestle. This caused the timbers to fail while the machine attempted to cross. As you can see from the photo, the crane ended up upside down in the creek below. The Wisconsin DNR was called in because of the possibility of fuel contaminating the area. It is not known when the crane will be removed from the creek.
---
Home | Jim's Railroad Motorcars | Railroads in Green County | Back
No part of this site may be used or reproduced on other sites or in print without the permission of:
Southern Wisconsin Railcar Group.
This site Created & Maintained by: Jim Kalrath © 1998, 1999
Updated: December 5th, 1999