Welcome
GRAND OPENING - NEW TO MADISON!
Pollo Inka began operations in Madison, WI in January, 2010. We invite you to savor our FAMOUS Peruvian Rotisserie Chicken (Pollo a la Brasa)
Pollo Inka's chicken is exquisitely marinated, cooked "Inka style" and served with a sublime green sauce of the house. "This bird will have you tweeting in ecstasy".
Also savor our many other mouthwatering dishes with the authentic flavors of Peru while enjoying great ambiance and service!
All dishes prepared exclusively by our executive chef straight from Peru!
SERVING: Monday through Saturday 11AM - 9 PM - Sunday 11AM - 8 PM
We are located on Madison's West Side: 745 N. Highpoint Rd - Corner of Old Sauk and High Point Rd. Phone: (608)833-4287 (See Map) No reservations needed.
Pollo Inka Peruvian Chef Maritza Paz is known throughout the world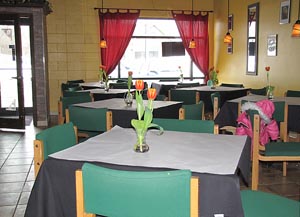 Owner Percy Colombier, a New York native, brings to Madison the exquisite tastes of succulent ceviche, with the help of Chef Maritza Paz. Paz comes from a family of chefs who, gastronomically speaking, go back generations.
Having prepared her signature ceviche for all manner of presidents and political dignitaries in her native Peru, Chef Paz now flashes her fish knives in Madison, WI where the neighbors are grateful beneficiaries.
Patrons also flock here to get a taste of the famed Rotisserie Chicken - so tender and juicy, it keeps people coming back for more. Authentic items reign superior from seafood to beef. Prices are reasonable and portions are plentiful.
To that end, the staff caters to every customer, whether dine in or in your own home. (Take-Out is always an option.) From young couples out for a romantic meal, to families searching for high quality children friendly food, all are guaranteed a warm welcome, hot food and a distinctively cool time.