| | | |
| --- | --- | --- |
| | MOTORCAR EXCURSION - BYRON, ILLINOIS | |
Click on any picture to view full size.

All Photos by Craig Bluschke, Madison, WI

Great Lakes Railcars - Motorcar Excursion - Byron, Ill - October 30, 1999
On Saturday, October 30, 1999 the Great Lakes Railcar group sponsored a motorcar excursion in Byron Ill. After weeks of planning, Mike Mitzel, who was our trip coordinator, was able to provide us a very enjoyable trip.
It was a beautiful fall day. Temperatures were in the mid to high fifties with clear skies. There were about 22 motorcars that showed up for the ride.
This day, we rode the spur that goes from the main line in Byron, Ill to the Byron Nuclear Power Plant. The purpose of the line, most of which was built in the early 1980's, is to provide access to the power plant. There are many items used there that are too large and heavy to be transported by truck, so rail service is necessary to provide the means to bring these items into the plant from all over the country. Because this spur receives light use, it is an ideal place to plan a motorcar meet.
Set-on time was between 11:30 AM and 12:30 PM. I arrived at the set-on location at 11:00 AM and was surprised to see so many people there already. People were anxious to ride their motorcars on this great fall day.
Everyone brought candy with them. Of course this time of year is Halloween too! We tossed candy to the kids as we passed through their neighborhoods. There were many kids in costume and a lot of pumpkins and corn stalks to decorate the area for this occasion.
In total, we made 4 trips to the power plant and back. The spur is about 10 miles long, so we did about 80 miles that day. The last run of the day was a "dusk" run. According to Mike: "The night run was great!!! Kids were tricker-treating, people had their pumpkins lit up, wind was calm and went very well."
---
"I thought you folks who attended the Byron meet last weekend would be interested in seeing what the area looked like 25 years ago. Note that in photo above the people standing next to the motor cars are actually standing on what's left of the depot platform. Also, the siding which curves off hasn't changed and is visible in both sets of pictures.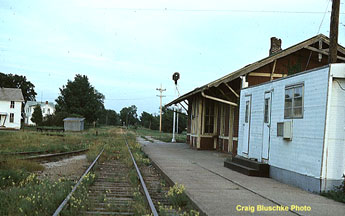 One other bit of information about these pics - in the last picture (the single one looking east) you get a fairly good view of the white trailer just west of the old depot. Those white trailers were pretty standard on the C&NW as train-order offices and probably indicated that they had moved out of the old station at that time and were going to tear it down. The C&NW of course had taken over the CGW a few years earlier in 1968. Don't know if it's really visible in the scans but the light in the train-order signal was lit green in each direction when the pictures were taken indicating that the train-order office was in fact open then."
Craig -

I would like to at this time thank Mike and all the others who make events like this happen. I also want to express an appreciation to the railroads too. Without these people, railroad motorcars would end up being used for lawn ornaments or find their way to the scrap yard.
The next motorcar excursion I will be reporting on will take place Saturday, November 6th, 1999. This one will take place on the Wisconsin & Southern Railroad from Middleton to Spring Green, WI. I will have a trip report for this trip as soon as information becomes available.
Thanks! Jim Kalrath.

---
Home
| Jim's Railroad Motorcars | Wis Railroad History | Back
No part of this site may be used or reproduced on other sites or in print without the permission of:
Southern Wisconsin Railcar Group.
This site Created & Maintained by: Jim Kalrath © 1998, 1999
Changes Last Made: November 4th, 1999